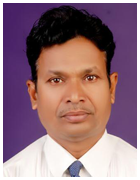 Dr. Bapurao Sambhaji Khillare born on 10thSeptember,l965 with a rural background at village Kothlaj of Hingoli District. He isgraduatedin Bachelor of Veterinary Sciences and Animal Husbandry and obtained Masters and Doctoral degree in VeterinaryParasitology from College of Veterinary and Animal Sciences, Parbhani with good academic performance.
He has more than 23years experience of Teaching, Research and Extension in Veterinary Parasitology. After starting his career as Veterinary Assistant Surgeon in Rajasthan, he worked as Assistant Professor, Associate Professor, Professor and Head of the departmentof Veterinary Parasitology, College of Veterinary and Animal Sciences,Parbhani and Udgir.While discharging duties of teaching, research and extension, he done good job as Hostel Warden and also handled other additional charges. Due to his good academic performance, he rose from Veterinary Officer to Associate, Dean.
His major contribution in research is in the area of "Coccidiosis" in goat kids. He has guided six M.V.Sc. students for research of their degree programme. He has 22 research articlesat his creditin reputed journals and many popular extension articles in Newspaper, booklet, souvenir etc.He has attended thirteen conferences / workshops / seminars and presented thirty six research abstracts. He organisedmany training and workshop for farmers, livestock Development officers.
He is a life member of Indian Association for Advancement of Veterinary Parasitology,
Member of Maharashtra Veterinary Counciland Member of Board of Studies.